Recognizing relationships and false accusations in GSoC and Outreachy
<! -- FIXME - generate and insert page TOC here -->
For about five years now Debian fanatics and their rent-a-mob have been spreading rumors about a mentor.
Many of us trust Debian as an operating system for our computers and servers. But can we really trust the people who make Debian?
Here is Ariadne Conill spreading rumours about a mentor girlfriending one of the GSoC interns: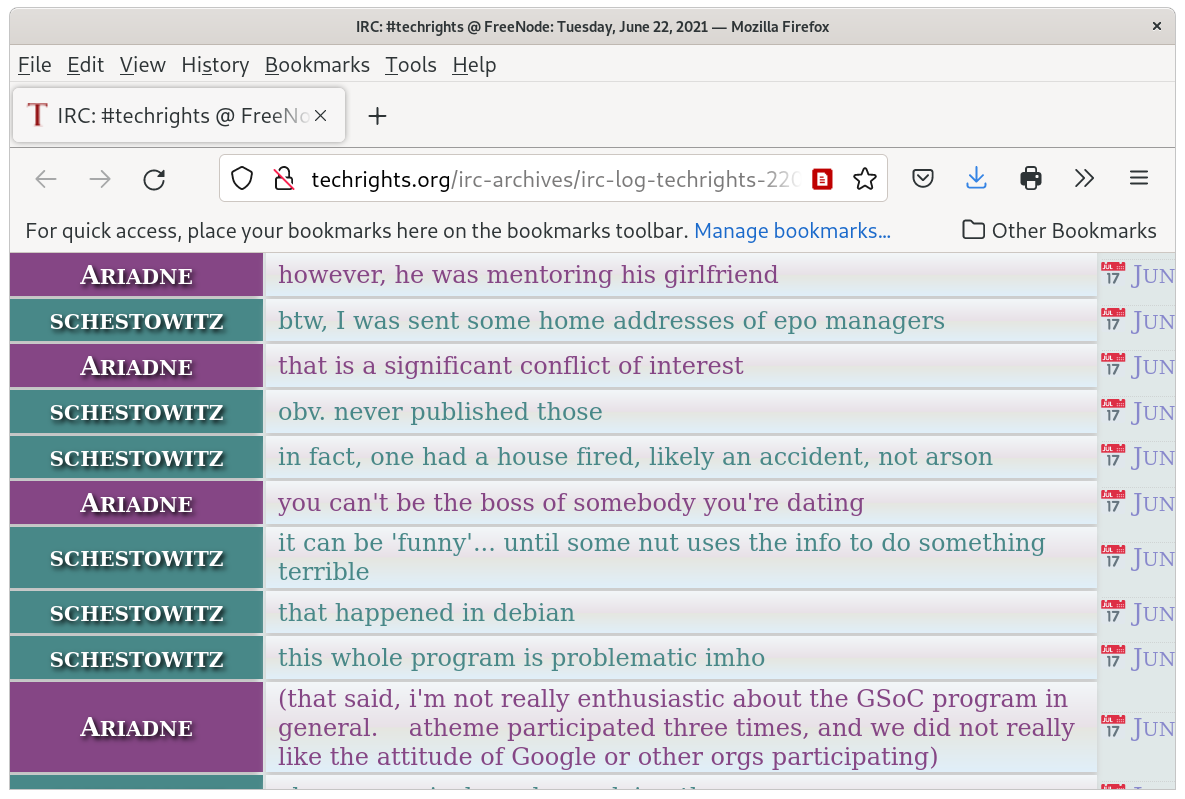 The last woman this mentor was responsible for is Elena Gjevukaj. In the middle of her internship, she sent the mentor a picture of her wedding.
Oops. Debian lies. Ariadne lies. If the woman got married in the middle of the internship then it is both very rude and very absurd for Debian people to suggest she was the mentor's girlfriend.

Subject: 	Surprise
Date: 	Wed, 15 Aug 2018 01:14:54 +0200
From: 	Elena Gjevukaj <gjevukaje@gmail.com>
To: 	Daniel Pocock <daniel@pocock.pro>

We got married! 😂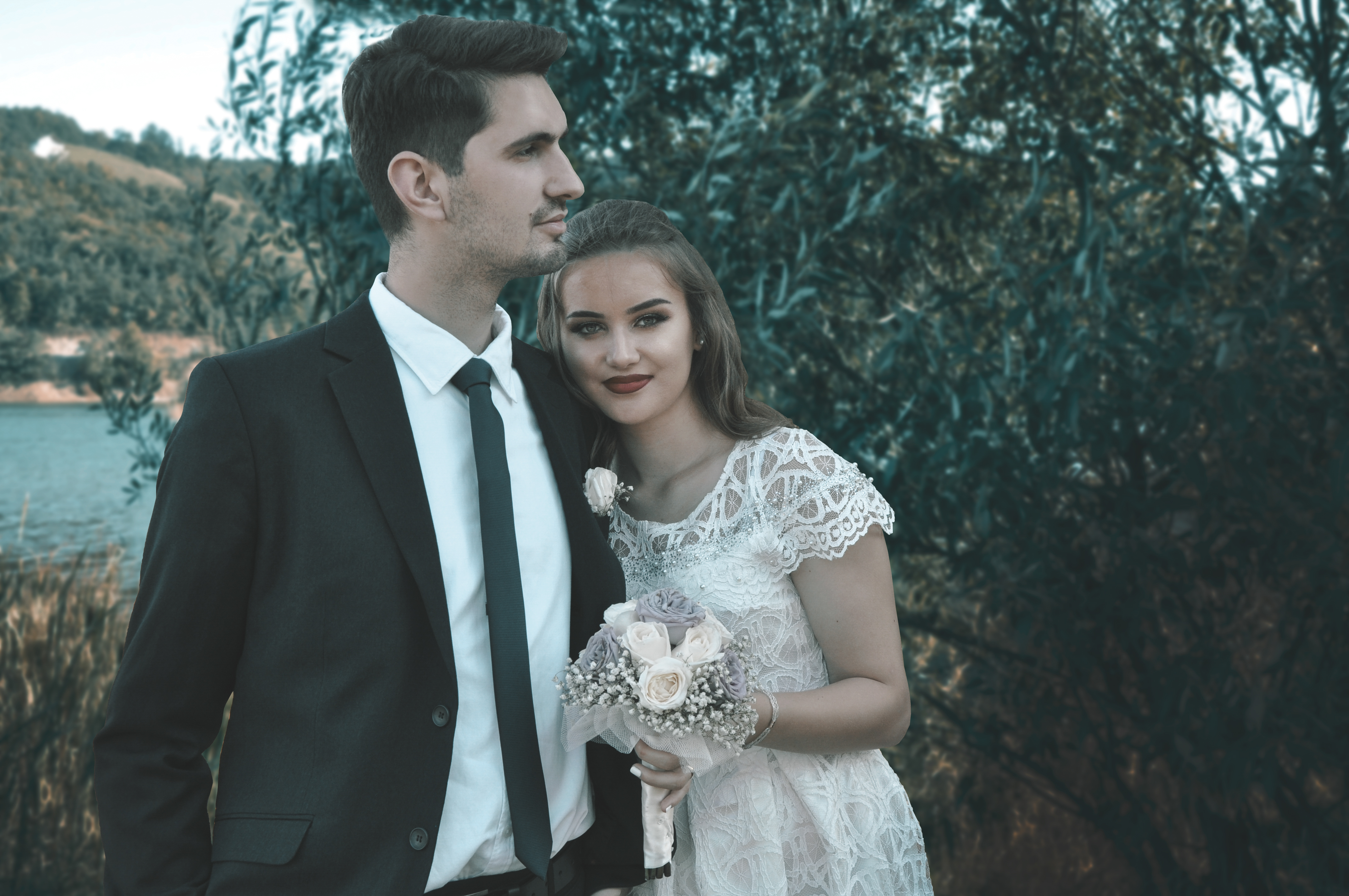 Yet Ariadne persists. She is even stalking the mentor on Twitter, despite the fact the mentor doesn't have any social media accounts.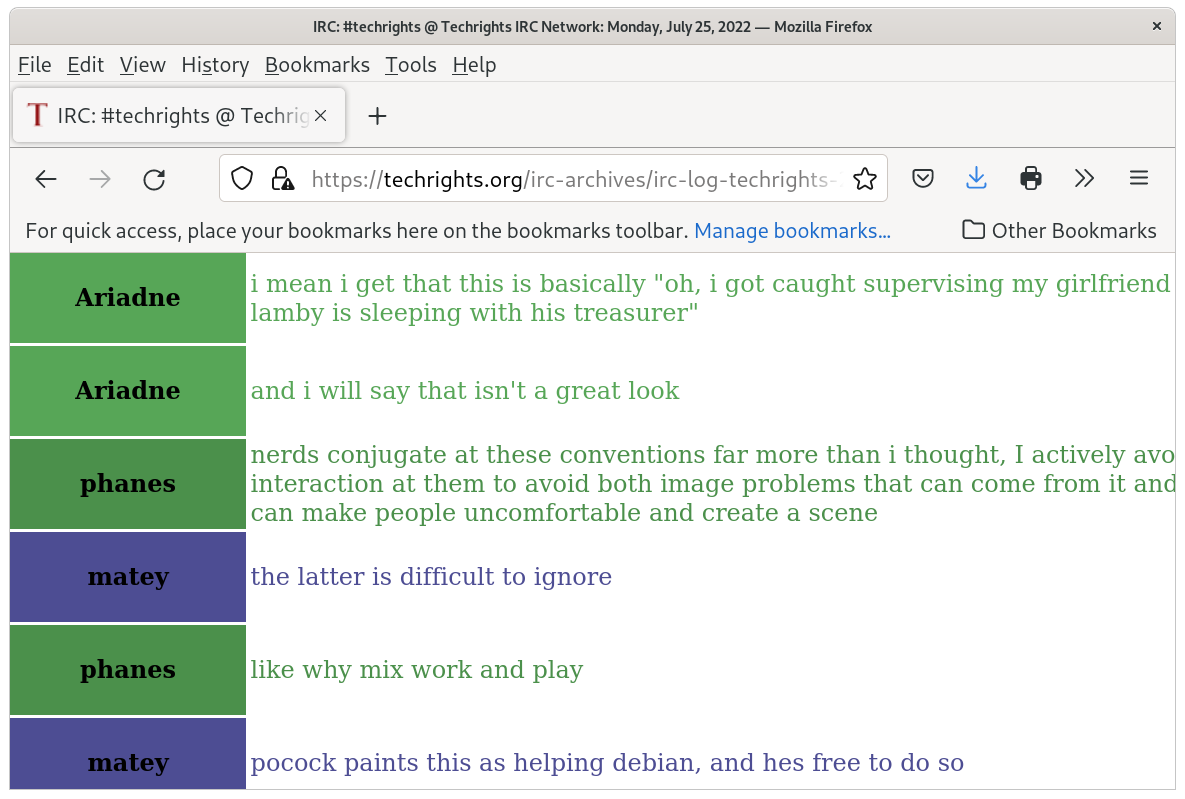 There is a lot more evidence too. In fact, the mentor was denied funding to attend DebConf18 in 2018. Here is the email:
---

Subject: Your bursary request for DebConf18: status updated
Date: Wed, 13 Jun 2018 18:35:52 -0000
From: <bursaries@debconf.org>
To: <daniel@pocock.pro>

Dear Daniel Pocock,

The bursaries team has updated the status of your bursary request for DebConf18.

Travel bursary
--------------

Your request for a travel bursary has been evaluated and ranked. However, we are
unable to grant it at this time: our travel budget is very limited, and we had
to defer a lot of strong applications. We will let you know as soon as possible,
hopefully before the end of June, if we can grant you the amount you have
requested, as our budget evolves and higher ranked applicants finalize their
plans.


Food bursary
------------

You have told us that you would be completely unable to come to DebConf if you
weren't granted a travel bursary. Your food bursary is therefore pending an
update on the travel bursaries front. If you're able to join us nonetheless,
let the bursaries team know so we can update your "level of need". Note that
this will be reflected in your travel bursary ranking.


Accommodation bursary
---------------------

You have told us that you would be completely unable to come to DebConf if you
weren't granted a travel bursary. Your accommodation bursary is therefore
pending an update on the travel bursaries front. If you're able to join us
nonetheless, let the bursaries team know so we can update your "level of need".
Note that this will be reflected in your travel bursary ranking.


You can review the full status of your bursary request in your profile[1] on the
DebConf website.

[1] https://debconf18.debconf.org/users/pocock/
-- 
The DebConf18 bursaries team

---
Mentors do a lot of unpaid work for Google and Outreachy. Why did Debian and Google block this mentor going to DebConf18? Were they hiding something from the mentor?
It looks like other developers, inner members of the Debian cabal, wanted to have some personal time with the female interns. Jiin-Mei Lin published a photo gallery.
The gallery includes one inconvenient photo. It is the developer Lior Kaplan with his arm around an Outreachy. In fact, the woman concerned was subsequently employed by GNOME Foundation. She joined GNOME at the same time as Molly de Blanc.
Congratulations to this woman. She survived DebConf and she outlasted both Molly de Blanc and Neil McGovern at GNOME. The Albanian woman in Lior's arms is the last man standing.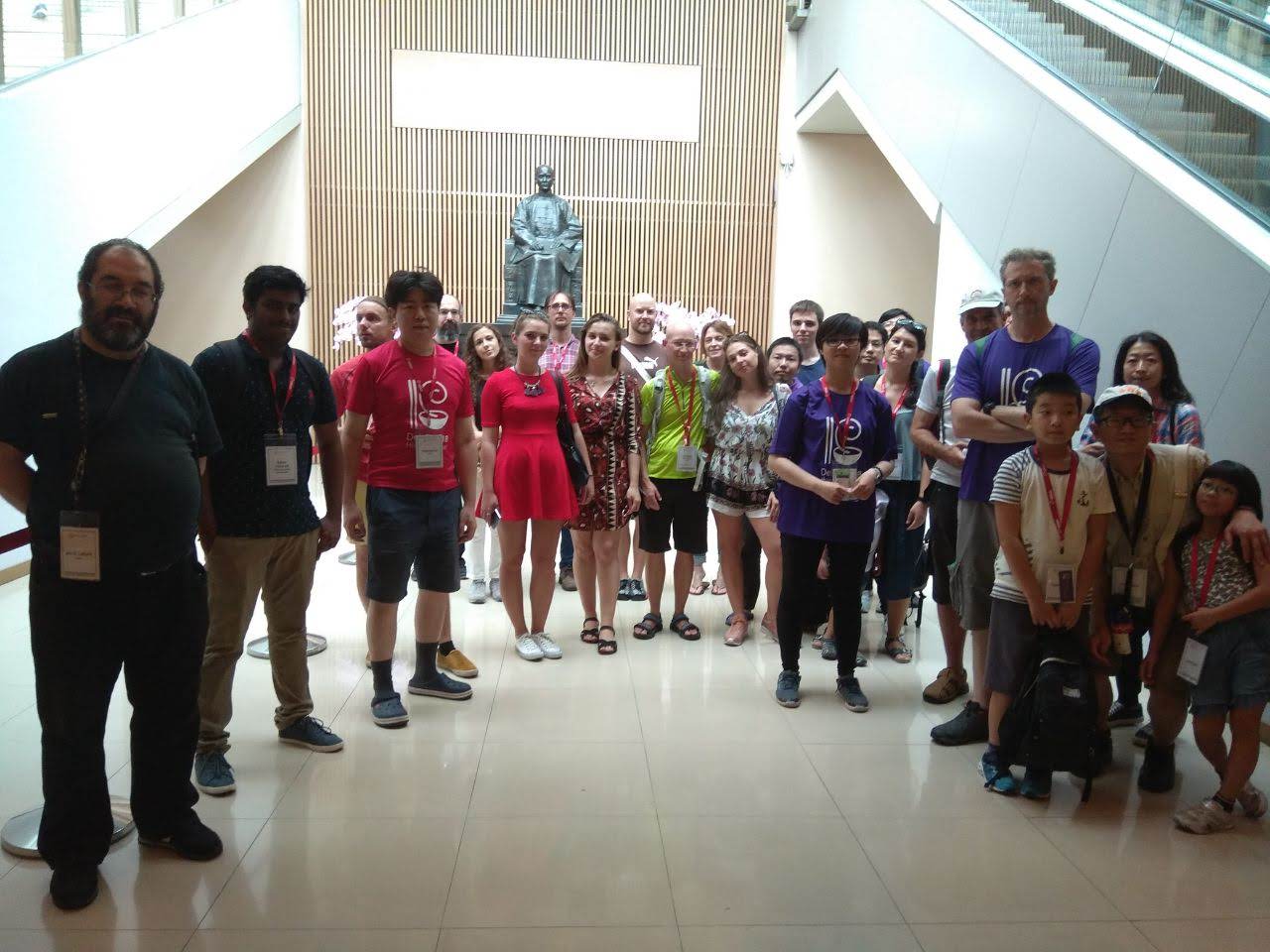 At DebConf19 in Brazil, there was an even bigger controversy. We saw pictures of the Debian Project Leader, Chris Lamb (top left), with a table full of Albanian women at the conference dinner: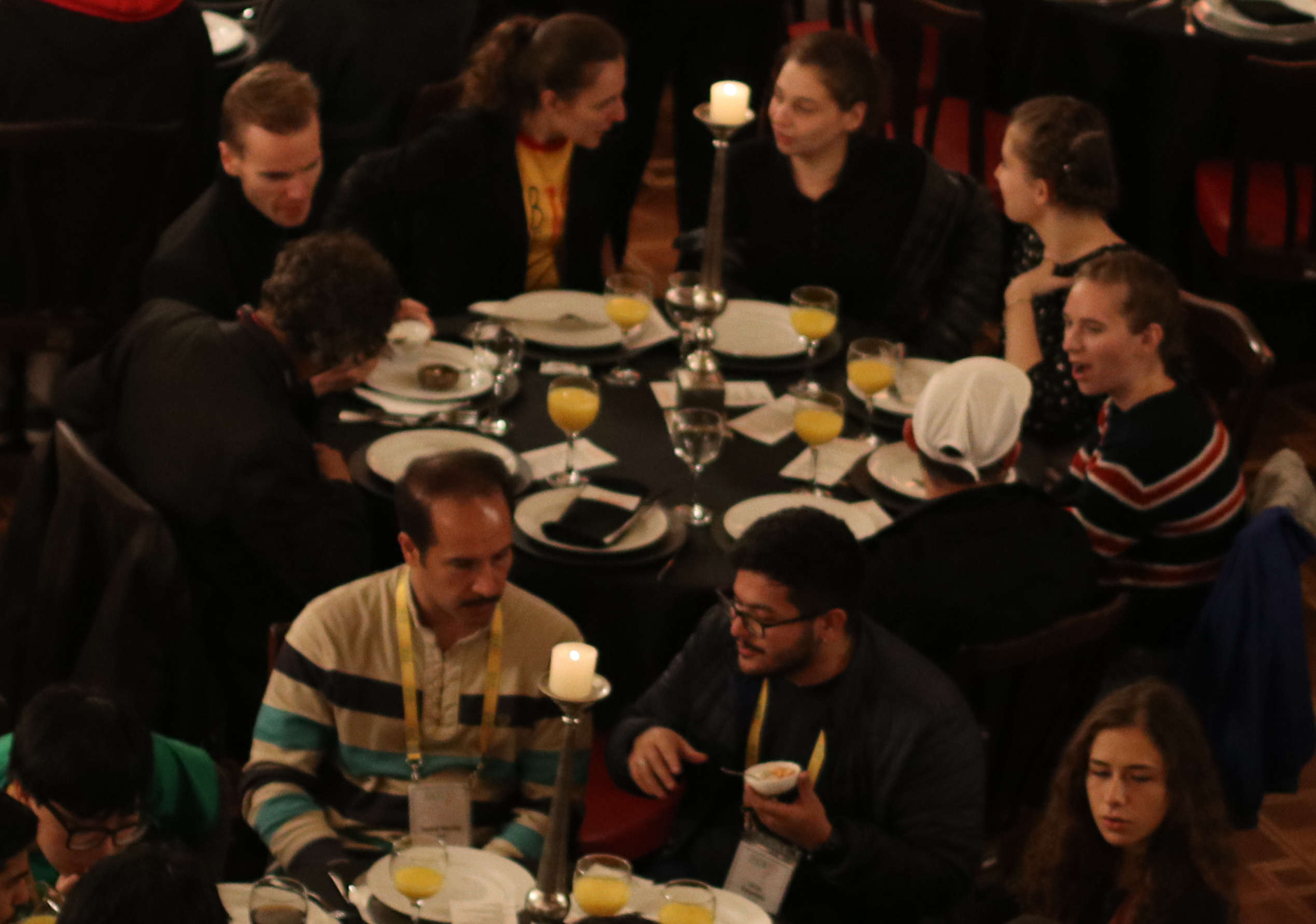 If travel budgets are so tight, how did they find money to buy all these tickets from Albania to Brazil?
Eight weeks later and the woman sitting closest to Lamby won the Outreachy internship, $6,000 and more free trips: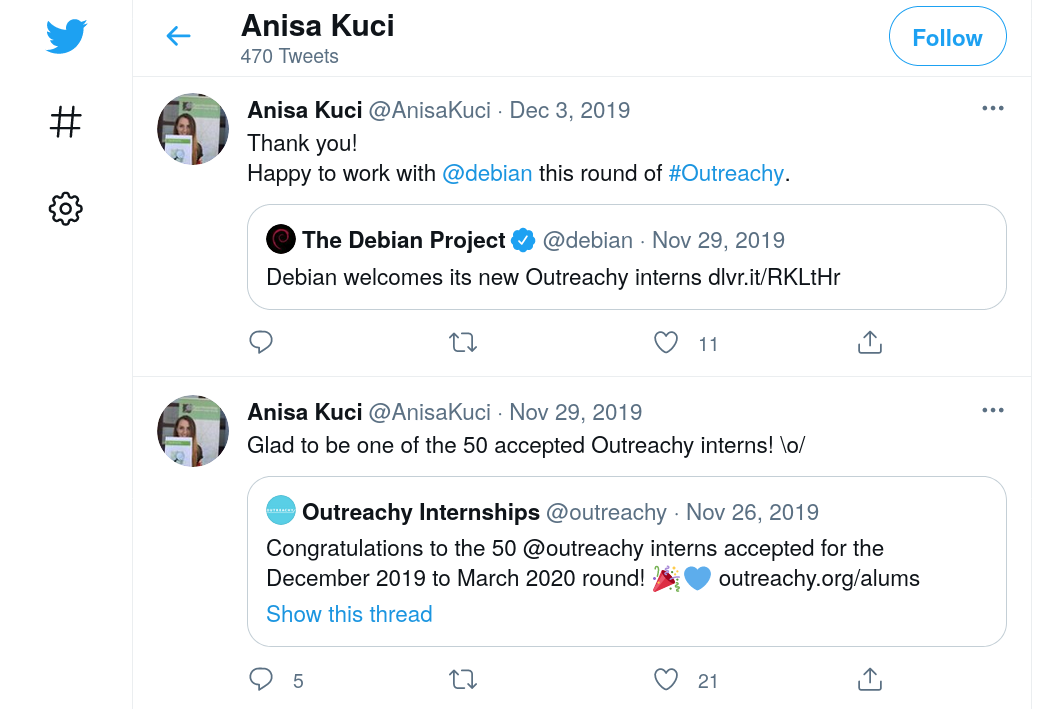 How do other women feel when they waste two or three evenings doing the Outreachy application test and then they see photos suggesting the Debian leader had a romantic history with the winner?
FSFE is at it too
Here is that picture from OSCAL in Tirana, Albania where we see the FSFE president Matthias Kirschner (on the right) with a table full of young Albanian girls.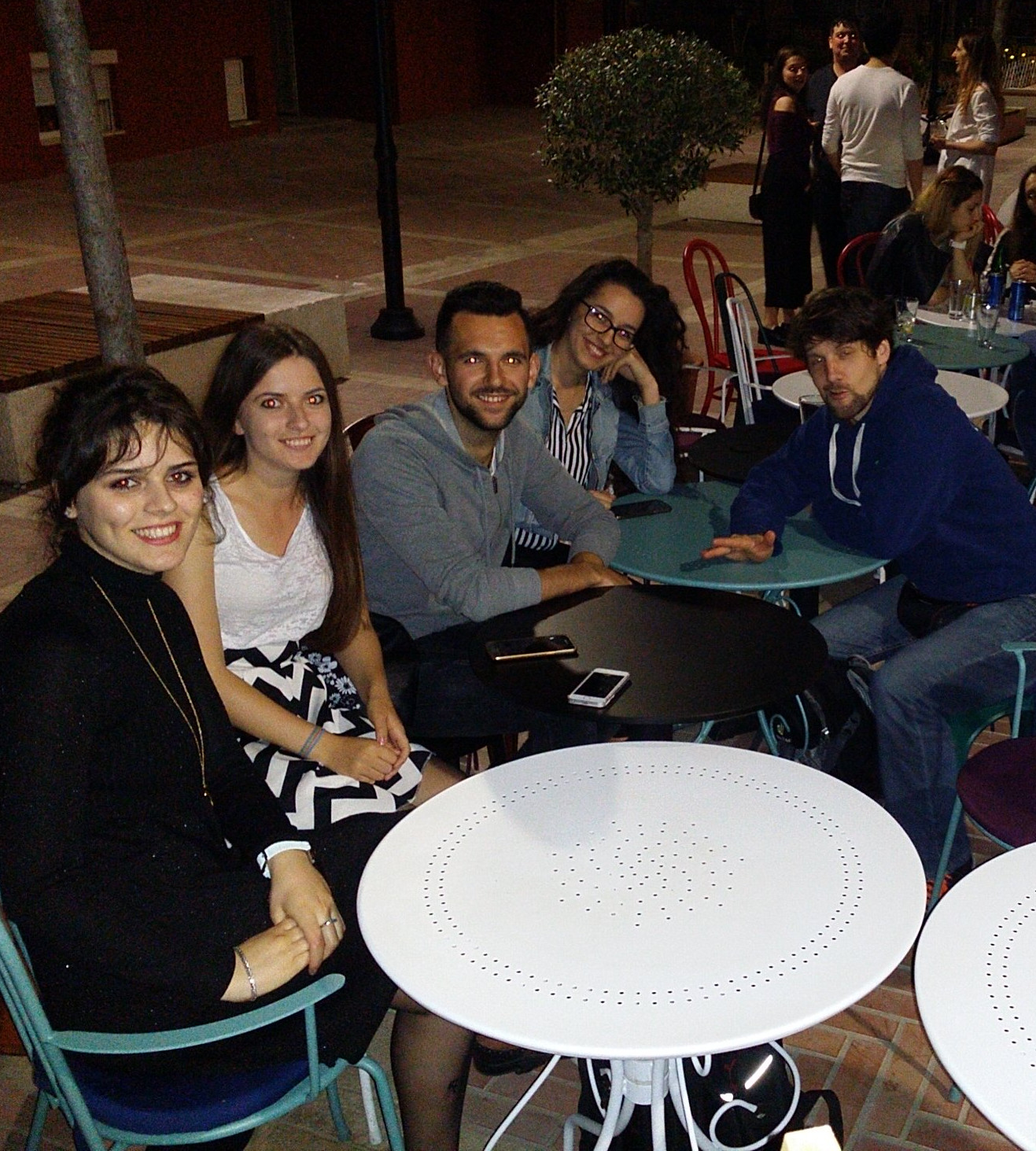 Now we found another picture, it is Kirschner's predecessor at the FSFE, Karsten Gerloff taking a patriarchal pose with his arm around a smiling young woman from Eastern Europe: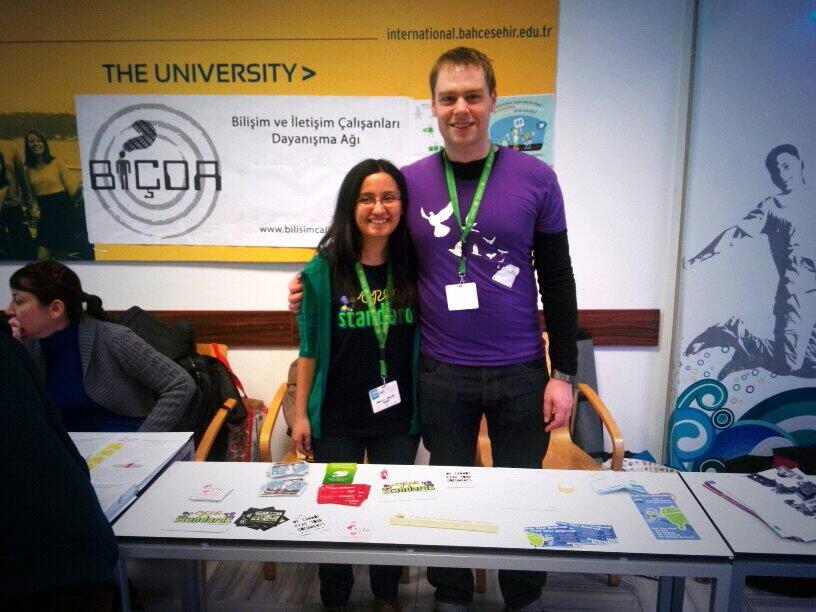 RMS signatories were not victims
Here one of the women tells us she was not a victim.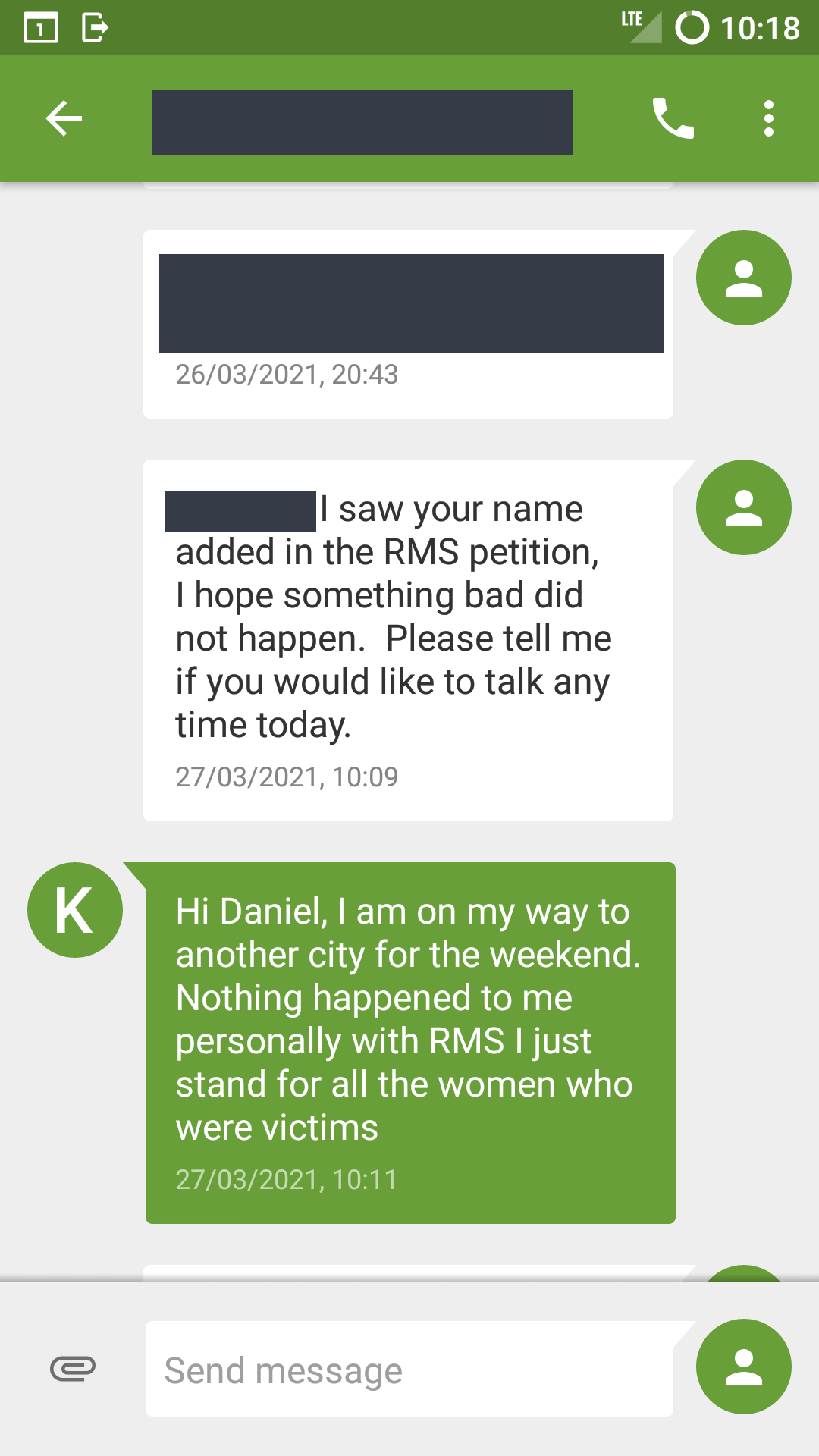 Nicolas Dandrimont was at it too
Dandrimont is one of the Debian Account Managers. He tried to bring his girlfriend into Outreachy.

Subject: Recusing myself from Outreachy applicant selection decisions, internships funding
Date: Fri, 14 Oct 2016 12:37:46 +0200
From: Nicolas Dandrimont <olasd@debian.org>
To: <leader@debian.org>, <outreach@debian.org>
CC: <mapreri@debian.org>, <pocock@debian.org>

Hey all,

As of today, the person I'm involved with, Pauline Pommeret, is applying to an
Outreachy internship in Debian (on the GPG cleanroom environment project - I
don't see her mail on the list archive yet, so something must have gone wrong,
but it should arrive soon enough).

To avoid an obvious conflict of interest, I am recusing myself for any
decisions regarding applicant selections for this round.

I am of course still happy to serve as a liaison with the Outreachy program
administrators, and to forward our applicants to them for general funding when
selected, if the money allocated by Debian runs out.

This would especially be relevant, in my opinion, to RTC projects, as I'm not
sure at all that we should fund them from Debian money directly. Karen Sandler
also told me that one of the Outreachy sponsors was interested in funding
interns on Reproducible Builds. All in all, we should be able to have two or
three internship slots with Debian only disbursing one.

I'll stay on the outreach@d.o alias for now, but let me know if you need help
ranking applicants, and I'll ask DSA to remove me so you can discuss at ease.

Cheers,
-- 
Nicolas Dandrimont

Paul Tagliamonte & Outreachy candidates

Subject: Re: OPW Student in Kingston, Jamaica
Date: Mon, 25 Nov 2013 13:39:12 -0500
From: Paul Tagliamonte <paultag@debian.org>
To: Joachim Breitner <nomeata@debian.org>
CC: debian-private@lists.debian.org

On Mon, Nov 25, 2013 at 06:37:36PM +0000, Joachim Breitner wrote:
> Hi,
> 
> Am Montag, den 25.11.2013, 13:18 -0500 schrieb Paul Tagliamonte:
> > She's got a PhD, so I think this could also be a good beersigning, if
> > she drinks.
> 
> not having a PhD yet I wonder what expects me: Will I be a better
> drinker after I get the degree? Or a better keysigner? /me is confused.

It simply means she's likely of age in her jurisdiction. All I was
saying is that she's not a high school student.

Cheers,
  Paul

-- 
 .''`.  Paul Tagliamonte <paultag@debian.org>
: :'  : Proud Debian Developer
`. `'`  4096R / 8F04 9AD8 2C92 066C 7352  D28A 7B58 5B30 807C 2A87
 `-     http://people.debian.org/~paultag

Debian women: marriages and children
The story of Alexander Reichle-Schmehl and Meike Reichle is not uncommon in Debian

Subject: Ditto: Retiring
Date: Tue, 31 Dec 2013 12:40:37 +0100
From: Meike Reichle <meike@debian.org>
To: debian-private@lists.debian.org

Hi all

> I'm very sorry but as I'm unable to dedicate any time to anything
> related to Debian, I think it's best to retire. Sad truth is, that I'm
> quite busy with my family and my job.
> 
> Last year I hoped, that it would only be a temporary thing, but well I
> still don't have much time, and the time I have left I prefer to spend
> with my family.
> 
> However, I really hope, I'll be able to rejoin when time permits it.

As expected, the same goes for me :-/

With job(s), kid, house, life etc. computers been playing a continuously
smaller role in our family life. Most of these days I am glad if I manage
to check my email once a day. I'd really hoped to find a way to combine
family and Free Software, but I don't seem to be able to really pull it off.

So, as Alex, I am herewith declaring my resignation. *sniff*

Being a part of the Debian project was one of the greatest experiences in
my life and I owe a lot to you (including my lovely husband). I hope we'll
still be able to maintain a close connection to the project and find other
ways to support it until we can return to full DD'dom.

In the meantime there'll at least always be a free guest room waiting,
should anyone of you ever need a place to stay in the Southern
Germany/Switzerland area.

Best Regards,
Meike

PS This message shall never be disclosed.


-- 
Please respect the privacy of this mailing list. Some posts may be declassified
3 years after posting as per http://www.debian.org/vote/2005/vote_002

Archive: file://master.debian.org/~debian/archive/debian-private/

To UNSUBSCRIBE, use the web form at .